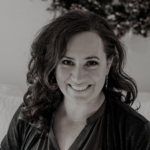 Hi! Welcome to Glaem. My name is Sarah Ridgley and I'm an artist and creative coder.
My work focuses on exploring the space between the hand-drawn and the computer-drawn and trying to blur those boundaries. I use Processing and JavaScript to build my programs, and I design my own algorithmic brushes to complete each piece. 
All my work is the result of highly-ordered chaos. This means that I write very organized instructions to direct the art, but then introduce random parameters so that the computer can try out an infinite variety of results. Once I have completed a program, I curate through as many iterations as needed to find the image that most speaks to me. 
When I have a result that I like, I save the "seed" number so that I can reproduce that exact iteration but change the parameters slightly. This allows me to show the movement of the strokes and create animations for augmented reality.
Once I'm ready to bring a piece from the digital realm into the analog, I print it using a Risograph. This is a form of silk screening where the ink is printed one color at a time. Immediately after printing, while the ink is still wet, I use thermography to coat the ink with resin and melt it into the final result.
EXHIBITIONS
2021 – Exhibition 6: Calculated Objects,  GLRY Gallery
2021 – Mothers of Ethereum, Cryptovoxels
2021 – Graffiti Queens, Decentraland
2021 – 4 Person Exhibition, Multi-Dimensional, CAE Gallery, Van Buren, AR
You can also  find my NFTs on OpenSea and Hic et Nunc
If you need to get in touch, please use the contact form below: