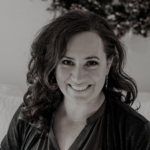 Hi! Welcome to Glaem. My name is Sarah Ridgley and I'm a creative coder and generative artist.
I've created this website as an online gallery for my generative programs.  My goal is to blend the hand-drawn aesthetic with computer code and the beauty of generative repetition, and I am constantly searching for new ways to mathematically create shapes and lines.
I use Processing and Javascript as the language to build my programs, and I design my own "brushes" and other tools to complete each piece.
I am currently experimenting with some Augmented Reality pieces, so feel free to have a sneak peak at my progress and let me know if you find any bugs when viewing them!
I also have some NFT Crypto Art pieces available on Rarible, so check those out if you collect rare digital art.
If you need to get in touch, please use the contact form below: